The "Official" Gangs of New York Tour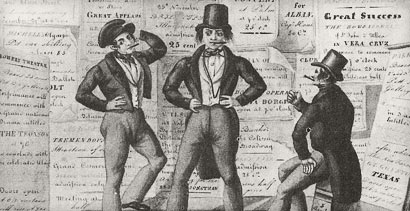 This history of the legendary Five Points. A tour created in partnership with the film "Gangs of New York".
A tour that goes beyond Martin Scorsese's landmark film "Gangs of New York" or the current BBC-America series "Coppers"! Come explore the legends and lore of Five Points and Herbert Asbury's 1927 classic The Gangs of New York – the inspiration for the film – and learn about the REAL history of the area! Stops could include: Paradise Square, "Murderer's Alley", the African Burial Ground, the lost intersection of Five Points, and sites associated with Bill "the Butcher" Poole, William M. Tweed, Master Juba, and the 1857 Police and 1863 Draft Riots.
The Big Onion "Official" Gangs of New York tour was originally commissioned by Miramax Films as the historical companion tour for the 2002 release of the fictional movie by Martin Scorsese. The "Official" Gangs of New York tour does contain mature content within the historic discussion.
Prepayment Optional
Big Onion happily accepts walk up participants. However, many Big Onion customers prefer to pay in advance. Prepayment also helps us determine group size and appropriate guide numbers.
To preregister and pay for your tour, click the "Book Now" button above. You will receive an e-mail confirmation and receipt once your order has been processed.
We regard a senior as 65+ years and a student anyone enrolled in full-time study. Please bring ID indicating senior status (i.e. age) and/or full-time active enrollment.
Refund Policy: Tour refunds (minus a $1 processing charge per person) are available by request up until 48 hours prior to the scheduled tour. Cancellations less than 48 hours prior to the tour or no shows will not be refunded. If Big Onion cancels a walk for any reason a full refund will be provided (please see our rain/inclement weather policy on the FAQ page for more information about tour cancellations).