Upper East Side: A Clash of Titans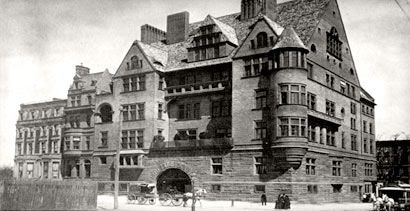 Explore one of the most luxurious neighborhoods in the world as we delve into the personalities, scandals, and institutions that have made it so legendary. Our tour will include a visit inside one of New York's most significant historic galleries and landmark townhouses. Stops could include: the Park Avenue Armory, the Frick Mansion, and sites associated with Richard Morris Hunt, Alexander Calder, Stanford White, as well as the Morgan, Tiffany, Vanderbilt and Houdini families.
Prepayment Optional Many Big Onion customers prefer to pay in advance. Prepayment also helps us determine group size and appropriate guide numbers. To preregister and pay for your tour, click the "Book Now" button below. You will receive an e-mail confirmation and receipt once your order has been processed. We regard a senior one 65+ years and a student anyone enrolled in full-time study. Please bring ID indicating senior status (i.e. age) and/or full-time active enrollment. If someone in your party is eligible for a senior discount, please use the coupon code "SENIOR" when booking. For our active military discount, please enter "MILITARY". For full-time student please use coupon code "STUDENT". If you have questions please email us at info@bigonion.com. PLEASE NOTE: booking a combination of adults with students and seniors has highlighted a flaw in our e-commerce system. Please enter number of adults and select "Traveling with children" to indicate number of discounted persons. We apologize for this inconvenience and are working with our third-party e-commerce provider to develop the system we require.
Refund Policy: Tour refunds (minus a $1 processing charge per person) are available by request up until 48 hours prior to the scheduled tour. Cancellations less than 48 hours prior to the tour or no shows will not be refunded. If Big Onion cancels a walk for any reason a full refund will be provided (please see our rain/inclement weather policy on the FAQ page for more information about tour cancellations). Between mid-May and early September the Upper East Side tour is one of a variety of walks offered as public "twilight" tours. Summer public "twilight" tours are lead Thursday, Friday & Saturday evenings at 5 p.m. We rotate a variety of tours in these time slots. Please see our Schedule page for details for specific dates and times.