Revolutionary New York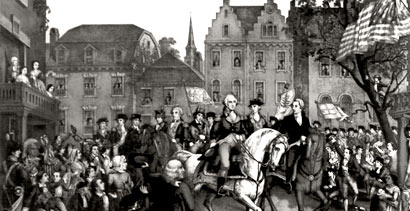 Unlike Philadelphia or Boston, New York's Revolutionary Era is hidden behind modern buildings and obscure signs. We'll uncover layers of history to reveal the Patriot/Loyalist conflict within New York as the nation was only beginning to develop. We'll visit the site where the Declaration of Independence was first read to a New York audience, we'll see the graves of Revolutionary War General Richard Montgomery and first Secretary of the Treasury Alexander Hamilton, the site of President George Washington's Inaugural Address, Fraunces Tavern and the target of the Stamp Act mob in Bowling Green.
Please view our Tour Schedule for additional dates – Revolutionary New York is often listed as a "special tour" on holidays or historically significant dates.