•Revolutionary New York-Celebrating President's Day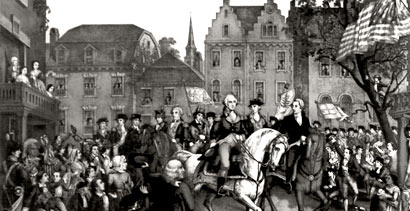 Join us as we remember the role New York played in the American Revolution as we celebrate Washington's & Lincoln's birthdays!  This special "holiday" tour of Lower Manhattan visits sites associated with our nation's War of Independence and New York's role in the early Republic. Unlike Philadelphia or Boston, New York's Revolutionary Era is hidden behind modern buildings and obscure signs. We'll uncover layers of history to reveal the Patriot/Loyalist conflict within New York as the nation was only beginning to develop. We'll visit the site where the Declaration of Independence was first read to a New York audience, we'll see the graves of Revolutionary War General Richard Montgomery and first Secretary of the Treasury Alexander Hamilton, the site of President George Washington's Inaugural Address, Fraunces Tavern and the target of the Stamp Act mob in Bowling Green.
Prepayment Optional
Many Big Onion customers prefer to pay in advance. Prepayment also helps us determine group size and appropriate guide numbers.
To preregister and pay for your tour, click the "Book Now" button below. You will receive an e-mail confirmation and receipt once your order has been processed.
We regard a senior one 65+ years and a student anyone enrolled in full-time study. Please bring ID indicating senior status (i.e. age) and/or full-time active enrollment.
Refund Policy: Tour refunds (minus a $1 processing charge per person) are available by request up until 48 hours prior to the scheduled tour. Cancellations less than 48 hours prior to the tour or no shows will not be refunded. If Big Onion cancels a walk for any reason a full refund will be provided (please see our rain/inclement weather policy on the FAQ page for more information about tour cancellations).