Historic Times Square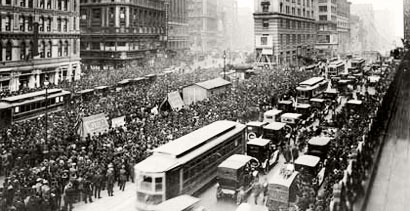 Before it was known as "The Crossroads of the World," Times Square was "Longacre Square," an area best known for harness shops and horse stables. Come see how much has changed as we visit a potter's field turned reservoir then elegant city park; the one time center of the city's vice district, as well as a host of legendary theaters, grand hotels, and movie houses. We'll see how redevelopment has changed the neighborhood and we'll look for traces of "old" Times Square hidden in plain sight. Stops may include: The New York Public Library, Astor Hotel and sites associated with the Shubert Family, Flo Ziegfeld, George Gershwin, Elvis Presley, and Damon Runyon.
Prepayment Optional
Many Big Onion customers prefer to pay in advance. Prepayment also helps us determine group size and appropriate guide numbers.
To preregister and pay for your tour, click the "Book Now" button below. You will receive an e-mail confirmation and receipt once your order has been processed.
We regard an senior one 65+ years and a student anyone enrolled in full-time study. Please bring ID indicating senior status (i.e. age) and/or full-time active enrollment. If someone in your party is eligible for a senior discount, please use the coupon code "SENIOR" when booking. For our active military discount, please enter "MILITARY". For full-time student please use coupon code "STUDENT". If you have questions please email us at info@bigonion.com.
PLEASE NOTE: booking a combination of adults with students and seniors has highlighted a flaw in our e-commerce system. Please enter number of adults and select "Traveling with children" to indicate number of discounted persons. We apologize for this inconvenience and are working with our third-party e-commerce provider to develop the system we require.
Refund Policy: Tour refunds (minus a $1 processing charge per person) are available by request up until 48 hours prior to the scheduled tour. Cancellations less than 48 hours prior to the tour or no shows will not be refunded. If Big Onion cancels a walk for any reason a full refund will be provided (please see our rain/inclement weather policy on the FAQ page for more information about tour cancellations).