Times Square: Inventing the Great White Way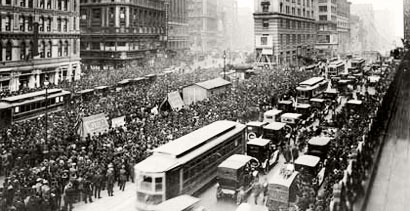 Walk the theatrical, musical & commercial heart of New York City!
Before it was known as "The Crossroads of the World," Times Square was Longacre Square – the center of New York City's horse and carriage industry. On this walk through the heart of Manhattan you'll see how this vibrant neighborhood has changed and learn how it became "The Great White Way!" We will explore the history of legendary theaters, grand hotels, and lavish movie houses, and see how, even in the midst of massive redevelopment, traces of "old" Times Square remain hidden in plain sight. Stops may include: the former site of the American Horse Exchange, the Astor Hotel, the Paramount Building, the Lamb's Club, the former Aeolian Hall, and sites associated with Elvis Presley, Frank Sinatra, Flo Zeigfeld, Mary Pickford, and many others.
Prepayment Optional
Big Onion happily accepts walk up participants. However, many Big Onion customers prefer to pay in advance. Prepayment also helps us determine group size and appropriate guide numbers.
To preregister and pay for your tour, click the "Book Now" button. You will receive an e-mail confirmation and receipt once your order has been processed.
We regard a senior as 65+ years and a student anyone enrolled in full-time study. Please bring ID indicating senior status (i.e. age) and/or full-time active enrollment.
Refund Policy: Tour refunds (minus a $1 processing charge per person) are available by request up until 48 hours prior to the scheduled tour. Cancellations less than 48 hours prior to the tour or no shows will not be refunded. If Big Onion cancels a walk for any reason a full refund will be provided (please see our rain/inclement weather policy on the FAQ page for more information about tour cancellations).