•Christmas Stroll in Greenwich Village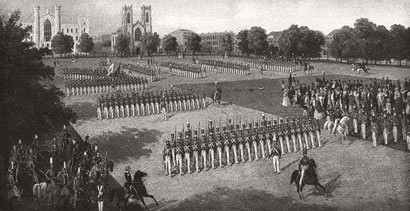 A Christmas Eve Day tour combining the history of Christmas in New York and the legendary Greenwich Village.
Stroll through New York's unique and legendary home to artists and writers on a tour with a special emphasis on the history and architecture of this neighborhood.  Throughout the tour Big Onion will also explore the history of American Christmas and how it is truly a New York holiday.   We will talk about the role of German immigrants and the Christmas tree; New York artists and the contemporary image of Santa Claus; and the patron saint of New Amsterdam.  Other stops on our tour could include: the "hanging elm", the Stonewall Inn, Chumley's, and sites associated with Stanford White, Aaron Burr, Edith Wharton, John Sloan, and Tom Paine.    This special holiday tour will conclude with a visit to St. Luke-in-the-Fields Chapel for a group reading of Clement Clark Moore's "A Visit from St. Nicholas".
Prepayment Optional
Big Onion happily accepts walk up participants. However, many Big Onion customers prefer to pay in advance. Prepayment also helps us determine group size and appropriate guide numbers.
To preregister and pay for your tour, click the "Book Now" button. You will receive an e-mail confirmation and receipt once your order has been processed.
We regard a senior as 65+ years and a student anyone enrolled in full-time study. Please bring ID indicating senior status (i.e. age) and/or full-time active enrollment.
Refund Policy: Tour refunds (minus a $1 processing charge per person) are available by request up until 48 hours prior to the scheduled tour. Cancellations less than 48 hours prior to the tour or no shows will not be refunded. If Big Onion cancels a walk for any reason a full refund will be provided (please see our rain/inclement weather policy on the FAQ page for more information about tour cancellations).