Central Park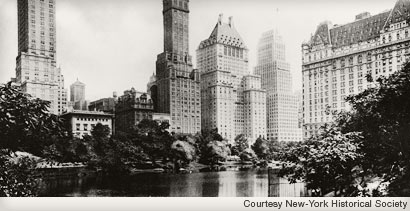 A walking tour of Manhattan's 843 acre "backyard"!
Since the 1860s Central Park has acted as the "lungs" of the city, providing a refuge from the hustle and bustle of Manhattan life for residents and tourists alike. Explore Manhattan's collective backyard and learn about the physical construction of the largest man-made work of art in New York, visit the scenic "literary walk," enjoy the exquisite architectural details in the Bethesda Arcade and Terrace, and lose yourself (not literally- you'll have a guide!) in the rustic Ramble. Guides may also discuss the Sheep Meadow, Belvedere Castle, Bow Bridge, the skating pond, Seneca Village, the Casino and the site of the "rocking chair" riot.
Prepayment Optional
Big Onion happily accepts walk up participants. However, many Big Onion customers prefer to pay in advance. Prepayment also helps us determine group size and appropriate guide numbers.
To preregister and pay for your tour, click the "Book Now" button. You will receive an e-mail confirmation and receipt once your order has been processed.
We regard a senior as 65+ years and a student anyone enrolled in full-time study. Please bring ID indicating senior status (i.e. age) and/or full-time active enrollment.
Refund Policy: Tour refunds (minus a $1 processing charge per person) are available by request up until 48 hours prior to the scheduled tour. Cancellations less than 48 hours prior to the tour or no shows will not be refunded. If Big Onion cancels a walk for any reason a full refund will be provided (please see our rain/inclement weather policy on the FAQ page for more information about tour cancellations).
Between mid-May and early September the Central Park tour is one of a variety of walks offered as public "twilight" tours. Summer public "twilight" tours are lead Thursday, Friday & Saturday evenings at 6 p.m. We rotate a variety of tours in these time slots. Please see our Schedule page for details for specific dates and times.
Central Park is not offered as a public "show up" tour in January & February as the walkways can be slippery and icy in the winter.