We are not your traditional tour guides.
Big Onion has the finest group of tour guides in the city. Most of us are full-time graduate students researching and writing doctoral dissertations in history. Big Onion guides have high school or college teaching experience and are quite often researching topics relevant to the tours they are leading.
All our guides work exclusively for Big Onion and have completed our rigorous in-house training program and are licensed by the New York City Department of Consumer Affairs. Our guides are passionate about the history, architecture and people of New York. We have been called "brilliant", "hilarious", "outstanding", and "irreverent". Most of our guides, upon completion of studies, move on to successful teaching careers.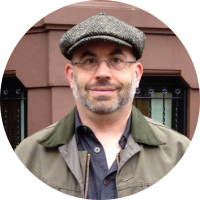 Seth Kamil
President & co-founder of Big Onion Walking Tours and Director of Big Onion Historical Consulting.  He holds advanced degrees in American History from Columbia University and a BA in Social Thought & Political Economy from University of Massachusetts at Amherst. Seth is proud to be a Fellow of the New York Academy of History. He has been a consultant on a variety of historical tourism projects including Governors Island, The Presidio, Atlantic City, The Preservation Alliance for Greater Philadelphia and ethnic New Orleans. Seth has appeared on numerous television networks, including BBC, PBS, History Channel, Travel Channel, Arte Television, CBS, and ABC.  Former on-camera Historian on, and a Producer of, the Emmy Award winning (13 nominations & one win) series "Toni On! New York". When not walking the city he can be found fly fishing a Catskill stream where cell phones don't work. He lives in Brooklyn with his wife Traci & black Labs Ruby and Genevieve.
Adrienne Nguyen
Adrienne is currently a PhD student in History and Social Studies Education at New York University. She is interested in the development of historical consciousness, issues of identity, and critical pedagogy. Before moving to New York, she worked at the Richard Nixon Library & Museum and received a B.A. in History and Anthropology from the University of California, Irvine. Originally from Southern California, she will not stop talking about the weather if given the chance, but she loves her adopted home and not-so-secretly enjoys how much easier it is to explore and how much more there is to learn about the city by foot.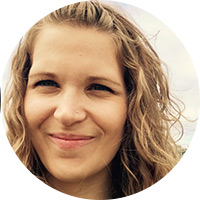 Alice Walkiewicz
Alice is a Ph.D. candidate in Art History at the Graduate Center, CUNY. She specializes in 19th-century art from the United States and Europe, and her dissertation explores the intersection of gender, labor, and art in the late 19th century through a comparison of the visual depiction of exploited female garment workers in Britain, France, and the United States. She holds a B.A. in English and Art History from the University of Kansas (Rock Chalk, Jayhawk!) and a M.Phil. in Art History from the Graduate Center, CUNY. Originally from Oklahoma, she has happily called New York home since 2008, and has lived in three out of the five boroughs of the city. She currently resides in Park Slope, Brooklyn.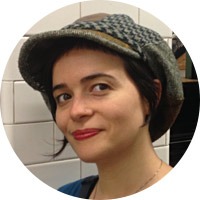 Alma Igra
Alma is a history PhD candidate at Columbia University. She works on international history between WWI and WWII, where NY features as a sight of global and international scientific collaborations. Originally from Jerusalem, Israel, she holds a BA in history from Tel Aviv University and an MA from the Central European University in Budapest. She loves New York parks and botanical gardens, and her favorite picnic spot is Governors Island.
Aya Esther Hayashi
Aya is currently pursuing her Ph.D. in musicology at the Graduate Center, CUNY, specializing in the participatory musics of science fiction fan cultures and musical theatre. In addition, she works as a Teaching Artist for Dancing Classrooms and volunteers with the Children's Musical Theatre Program at the Main Street Theatre and Dance Alliance (Roosevelt Island). She secretly harbors the hope that real life will turn into a musical and often randomly breaks out into song and dance.
Caroline Gillaspie
Caroline is a Ph.D. candidate in Art History at the Graduate Center, CUNY, where she studies nineteenth-century art of the U.S. and Latin America. She received her B.A. in History and Art History from Mount Holyoke College in 2008. Proud to call herself a native New Yorker, Caroline grew up in both New York City and the Hudson Valley and currently resides in the Manhattan neighborhood of Chelsea. In addition to leading tours with Big Onion, she also teaches art history courses at York College (Queens) and City Tech (Brooklyn).
Clay Eaton
Clay is a Ph.D. candidate in East Asian studies at Columbia University. He is writing his dissertation on the Japanese occupation of Singapore during the Second World War, but his interests span the globe. Before starting at Columbia, Clay worked, interned, and volunteered in Japanese public schools, at Senator Patty Murray's office, at the U.S. Holocaust Memorial Museum, and with the Japan America Society. When pressed Clay will say he is from Seattle, but he has spent his life on three continents and numerous islands. These days he is happy to call the island of Manhattan home.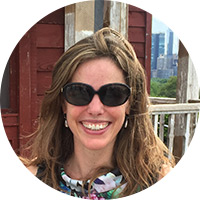 Elizabeth Pillsbury
Elizabeth received her Ph.D. in American History at Columbia University. She has taught and TAed courses in U.S. History, the History of New York, Environmental Politics, Urban Studies, and the History of the American West. She received numerous fellowships, including funding from the ACLS and Mellon Foundation, the Whiting Foundation, the New England Regional Fellowship Consortium, and the Long Island Sound Study. Her dissertation, "An American Bouillabaisse: The Ecology, Politics and Economics of Fishing around New York City, 1870-Present", looked at the transformation of fishing and fisheries management around Long Island during the twentieth century.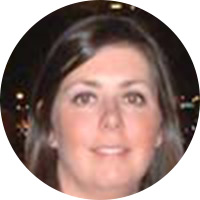 Elizabeth Stack
Elizabeth is a Ph.D. candidate in American History at Fordham University where she is writing her dissertation on Irish and German immigrants in New York City between 1880 and 1924. She was a high school teacher for several years before returning to study and has lived in New York for seven years. She teaches American and Irish history at Fordham when not exploring New York's past.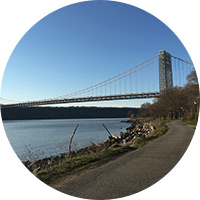 James Gerken
James is currently pursuing a masters in urban planning at Columbia University, with a focus on transportation, development and environmental planning. He holds a B.A. in history from Colgate University, where he completed an honors thesis on early 20th-century British drug policy. James previously worked at The Huffington Post for four years and was editor of the site's environmental section. He is also a homebrewer and beer judge.
Jessamyn Conrad
Jessamyn has a PhD in Art History from Columbia University, an MPhil in Historical Studies from Cambridge University as well as a BA in Art History and Social Anthropology from Harvard. Her dissertation focused on five trecento altarpieces made for the Cathedral in Siena, and more specifically on issues of depicted narration, space, and time; she also studies early Islamic architecture and is currently working on a project that joins art history and perceptual science. Jessamyn's first non-fiction book was published in 2008.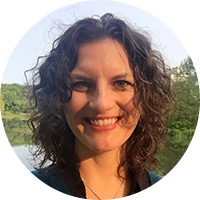 Kathleen Cann
Kathleen is a history teacher who recently received her MA in Social Studies Education from New York University. She also holds an MA in History from Hunter College, where she focused her studies on U.S. reform in the early twentieth century. Kathleen earned her BA in American Studies at Fordham University. She is a native New Yorker and never tires of exploring the city.
Katy Lasdow
Katy is a doctoral candidate in U.S. history at Columbia University, completing a dissertation on the social and economic consequences of urban waterfront development in the early American republic. Katy has an avid interest in historic preservation and public history. Currently, she is the Assistant Public Historian at the Brooklyn Historical Society for the Waterfront exhibit, opening soon at BHS: DUMBO. Katy enjoys playing oboe with the Brooklyn Wind Symphony, exploring New York's incredible parks and trails, and perfecting the "art" of cooking in her New York-sized kitchen.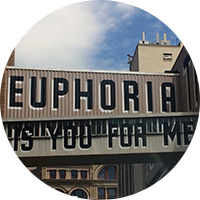 Kelly Hacker Jones
Kelly Hacker Jones is a PhD candidate in History at Stony Brook University (State University of New York). When not giving tours or working on her dissertation – which examines the popularization of Chinese Medicine in the U.S. – Kelly might be found browsing the farmer's market at Grand Army Plaza, picnicking in Prospect Park, or hanging out at her favorite beer shop.
Kieran Gannon
Kieran is pursuing his MA in Theories of Urban Practice at Parsons School of Design. He is interested in combining his love of storytelling and media studies with his passion for urban social justice issues. He holds a BA in History from Eugene Lang College that focused on urban social history of New York City, though his thesis explored the historiography of Australia's participation in World War I. Originally from Warwick, NY, Kieran moved to NYC in 2008. When not enjoying the streets of NYC, he enjoys spending time at the beach, performing with his band, and cooking in his kitchen.
Kris Choe
Kris received her B.A. from California State University, Fullerton, and moved to Greenwich Village to continue her studies in English Literature as an M.A. student at New York University. She is most interested in modernist literature and trauma studies, and has very recently developed an interest in digital humanities after taking a computer programming class. She wrote a historical novella for her undergraduate thesis, and not-so-secretly entertains the idea of writing the next Great American Novel; but putting aspirations to become a writer aside, she would also love to start a school one day to give children the same educational opportunities she has been blessed with.
Laura Ping
Laura is a Ph.D. candidate in American History at The Graduate Center, City University of New York where she studies Nineteenth-Century cultural history and women's history. She received her B.A. in history from the University of Iowa and her M.A. in American history from Virginia Commonwealth University. Laura grew up in Iowa, but currently resides in Queens with her husband and two dogs.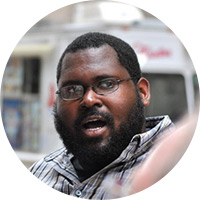 Lavelle Porter
Lavelle received his Ph.D. in English from the CUNY Graduate Center, and a B.A. in History from Morehouse College in Atlanta, GA. He is an Assistant Professor of English at New York City College of Technology, CUNY, where he teaches courses on the history and culture of NYC. He is currently working on a book about representations of black higher education in popular culture.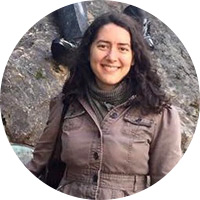 Melissa Marturano
Melissa is a Ph.D candidate in Classical Philology at CUNY Graduate Center. She teaches Latin, ancient and modern literature, ancient history, film, and gender studies at Brooklyn College and Queens College. Her dissertation research focuses on the portrayal of rape in the corpus of the Roman poet Ovid and its many connections to contemporary American conceptions of rape. A native Brooklynite, Melissa grew up in Bay Ridge, defected to Boston briefly for college, and now lives in Prospect Lefferts Gardens. She prides herself on her extensive New York City subway knowledge (in the course of her lifetime, she has ridden every train line from beginning to end) and her Brooklyn diner knowledge. When she is not teaching, researching, or giving tours, she visits the water fowl in Prospect Park and plays guitar and piano.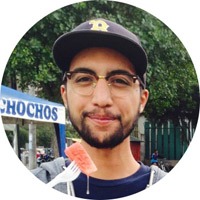 Michael Salgarolo
Michael Salgarolo is a PhD student at New York University studying the early twentieth-century United States Empire. Originally from Southern California, Michael received a bachelor's degree in history from the George Washington University in Washington, D.C., focusing on the Civil War and Native American history, while also writing a blog about Washington D.C.'s Catholic Churches. After spending two years teaching English in Asia and Latin America, Michael was happy to move to New York, if for no other reason than to understand the references in Seinfeld a little better. Big Onion tours combine Michael's two great passions: history and being loud.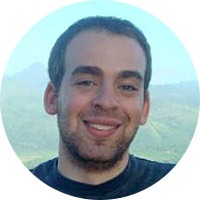 Matt Joseph
Matt is a PhD student in History at Columbia University, specializing in twentieth-century U.S. cultural history with a focus on popular music. Hailing from Connecticut, Matt received his B.A. from Yale University and has worked for the Blues Archive at the University of Mississippi and the Louisiana State Museum in New Orleans. He is currently researching the intertwined histories of punk and hip hop in 1970s and 80s New York City. He fondly recalls selling records in the East Village and Brooklyn and is saddened by the lack of record stores in Morningside Heights. Despite his love for New York, Matt's heart belongs to the Boston Red Sox.
Nate Sloan
Nate completed his PhD in musicology at Stanford University and teaches at Fordham University. His dissertation, Jazz in the Harlem Moment: Race and Place at the Cotton Club, uses archival research and musical analysis to examine early Harlem jazz through a lens of critical geography and race. In addition to his research and teaching, Nate is an award-winning performer and composer, and host of the music theory podcast "Switched on Pop."
Nick Juravich
Nick is a Ph.D. candidate at Columbia University, where he studies twentieth-century social movements and urban history. Originally from Amherst, Massachusetts, Nick holds a BA in History from the University of Chicago and an M.Phil in Economic and Social History from the University of Oxford. He lives and writes a local blog in Crown Heights, Brooklyn, where he worked as a health and fitness educator with New York Road Runners before going back to graduate school.
Nick Serpe
Nick is a Ph.D. candidate in the history department at Columbia University (where he also got his B.A.). He studies the history of the Silicon Valley, but he's called New York his home for ten years. He's an editor-at-large at Dissent magazine.
Paul Katz
Paul is a doctoral student in history at Columbia University. His interests center on the dictatorships and civil wars of late twentieth century Latin America, and on the constructs of human rights and transitional justice that shape international perceptions of and approaches to these regimes. Before moving to New York, Paul completed his undergraduate degree in history and literature at Harvard and then studied social history at the National University of Luján in Buenos Aires, Argentina. He cares passionately about cities–especially their histories and the ways that the narratives told of their past experiences continue to shape the present–and is eager to share this passion with all of those who join his Big Onion tours.
Sarah Beckhart
Sarah is a Mexican doctoral student in history at Columbia University. Her interests center on crime and violence in Mexico in the late twentieth century, and Latin America more broadly. Before moving to New York, Sarah completed her undergraduate degree in history at Franklin and Marshall College, and continued her passion and obtaining her masters degree in history at the University of North Carolina Charlotte. Her interests in the evolution of crime and violence over time has led her to a fascination with urban centers of the world – especially the people's histories and the ways that their stories continue to shape the present.
Sarah Schaefer
Sarah recently received her PhD from Columbia University in the Department of Art History. She received her B.A. from the University of Michigan in 2001, and moved to New York City in 2007 to begin her graduate studies. Her research interests include 19th-century art, art and politics, and religious media. She has lived in 3 of New York City's 5 boroughs, and hopes that Big Onion tours will someday extend to Queens (where she currently resides).
Sarah Sklaw
Sarah is a doctorate student in US history at NYU where she studies the relationship between gender and international development during the Cold War. Sarah grew up in various neighborhoods in New York, and is a proud graduate of NYC public schools. She moved to New Orleans for college, and her advisor was one of the original Big Onion guides. She holds a BA in history from Tulane University. She currently lives in Brooklyn with her dog and can often be found watching ducks in Prospect Park. Much to the chagrin of Big Onion's founder, she is younger than the company.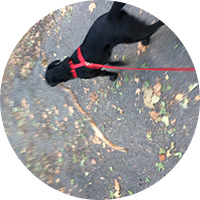 Scot McFarlane
Scot is a doctoral student in United States History at Columbia University, focusing on race and ethnicity, environmental history, energy history, and borderlands in the South from Reconstruction to World War I. Originally from East Texas and Massachusetts, Scot received his B.A. from Bowdoin College and then taught history and writing at several schools across the country, including Chemeketa Community College in Oregon and Codman Academy Charter School in Massachusetts. When not studying in the library he can be found exploring the city with his Labrador or playing the banjo.
Stephen Petrus
Stephen Petrus is an Andrew W. Mellon Research Fellow at the New-York Historical Society. At the Museum of the City of New York, he curated the exhibition Folk City: New York and the Folk Music Revival and was principal author of the accompanying book, published by Oxford University Press in 2015. Steve has published essays and reviews in the fields of twentieth-century U.S. urban and cultural history in Studies in Popular Culture, New York History, and the European Journal of American Culture. His next book will be a political and cultural history of Greenwich Village in the 1950s and 60s. He received his Ph.D. in history from the Graduate Center of the City University of New York.
Stephen Walkiewicz
Stephen is a masters student at Hunter College, specializing in late nineteenth and early twentieth century American literature. Currently he resides in Brooklyn, but has lived in New York for the past six years dabbling in journalism, and working at a number of respectable restaurants and bars around the city. His main academic interests concern the effects of power upon language and identity.
Tamar Rabinowitz
Tamar is a Ph.D candidate in American History at The George Washington University. Focusing on the history of immigration in the 20th century, Tamar is writing her dissertation on Jewish immigrants and the making of an American-Jewish identity in a modern world. After completing her BA in American History at New York City's Barnard College, she moved to DC to pursue her doctorate. It did not take long for Tamar to miss the sights and sounds of New York, and so she returned to Brooklyn in 2012 to complete her dissertation in the epicenter of American immigration and urban life. Proficient in both Modern Hebrew and Yiddish, Tamar loves to uncover the layers of history of New York's diverse ethnic, religious, and cultural communities.
Theodore Barrow
Theodore is a PhD student in Art History at the Graduate Center, CUNY, studying strands of European art and architecture in late 19th century America. Long before this, he was bewildered by the space of Los Angeles, where he received his BA from Occidental College. He promptly moved to New York in 2002, and has explored nearly nearly every corner of this fantastic city on foot over the last decade, and is eager to share his findings. Favorite neighborhoods are the Lower East Side and the ENTIRE West Side of Manhattan, from 59th street to the Cloisters.
T. Passwater
T. Passwater is working on a PhD in musicology and a certificate in American Studies at the CUNY Graduate Center. Her current research focuses on the reception of American women composers who were active during the 1920s and '30s. She is also a classically-trained musician who holds undergraduate and graduate degrees in music performance. When not immersed in the world of musicology, she loves exploring the streets of New York, a city she has been lucky to call home for the past ten years.
Zachary Bennett
Zachary is a Ph.D. candidate in early American history at Rutgers. Raised in Maine, he holds an MA in history from Miami University. Zachary's research focuses on the environmental history of colonial North America. His other academic interests include the Atlantic World, Native American history, and the African Diaspora. New York lay at the center of all these worlds, and Zach enjoys pointing out how the city has been defined largely as a concentrated nexus of these far-flung Atlantic networks.
Big Onion alumni guides include:
Adam Rothman, Professor of History, Georgetown University
Anna Seastrand, Professor of Art History, University of Chicago
Annie Polland, Lower East Side Tenement Museum
Beverly Gage, Professor of History, Yale University
Brian McCabe, Professor of Sociology, Georgetown University
Cecelia Walsh Russo, Copenhagen University
Cindy Lobel, Professor of History, CUNY/Lehman College
David Kinkela, Professor of History, SUNY Fredonia
David Madden, Professor of Sociology, Bard College
Edward O'Donnell, Professor of History, The College of Holy Cross
Eliza Byard, Executive Director, GLSEN
Eric Wakin, Research Fellow and Director of Library & Archives, Hoover Institute, Stanford University
Erik Goldner, Professor of History, California State University-Northridge
Jana Lipman, Professor of History, Tulane University, New Orleans
Jennifer Fronc, Professor of History, University of Massachusetts/Amherst
Jennifer Nugent Duffy, Professor of History at Western Connecticut State University
Jeffrey Trask, Professor of History, University of Massachusetts/Amherst
Josh Wolff, Consultant, McKinsey & Company
Julia Guarneri, Professor of History, Colgate University
Leonard Benardo, Regional Director, Open Society Institute
Mark Elliott, Professor of History, Wagner College, Staten Island NY
Max Page, Professor of Architecture and History, Univ. Massachusetts/Amherst
Megan Doherty, Program Officer, German Marshall Fund of the United States
Michael Benediksson, Professor of Sociology, Hunter College
Nancy Banks, History Teacher, The Fieldston School, Bronx NY
Pam Epstein, Assistant Director, Community Arts Development Program, NYC Department of Cultural Affairs
Pavel Schlossberg, Professor of Communications, University of Virginia
Philip Napoli, Professor of History, Brooklyn College
Reiko Hillyer, Professor of History, Lewis & Clark College
Sam Haselby, Senior Editor, Aeon
Sara Fanning, Professor of History, University of Texas
Stephanie O'Rourke, Professor of Art History, St Andrew's College, Scotland
Suzanne Kahn, Research Analyst, SEIU 32BJ, New York City
Tina Rivers, Metropolitan Museum of Art
Thorin Tritter, Research Fellow, School of Advanced Study, University of London
Tim White, Assistant Professor of History, the New Jersey City University
Vincent Cannato, Professor of History, Univ. Massachusetts/Boston